As followers of my Twitter feed, (the place where I first post my Tokyo Hyatt related breaking news) already know, for a couple of hours the Park Hyatt Tokyo was offering a "Holiday Promo" rate, offering 30% off of the Hyatt Daily Rate.  Not only was this a great discount, but it also offer seemed to offer special inventory that was not available with any other rate.
Unfortunately, I only got one screenshot from the Hyatt app on my smart phone (the rate also showed up on the regular Hyatt site), but it shows that, at 10:35am Friday Tokyo time, there was availability for a Park Deluxe Room on New Year's Eve for under $500, the lowest rate that I have ever seen for that special date.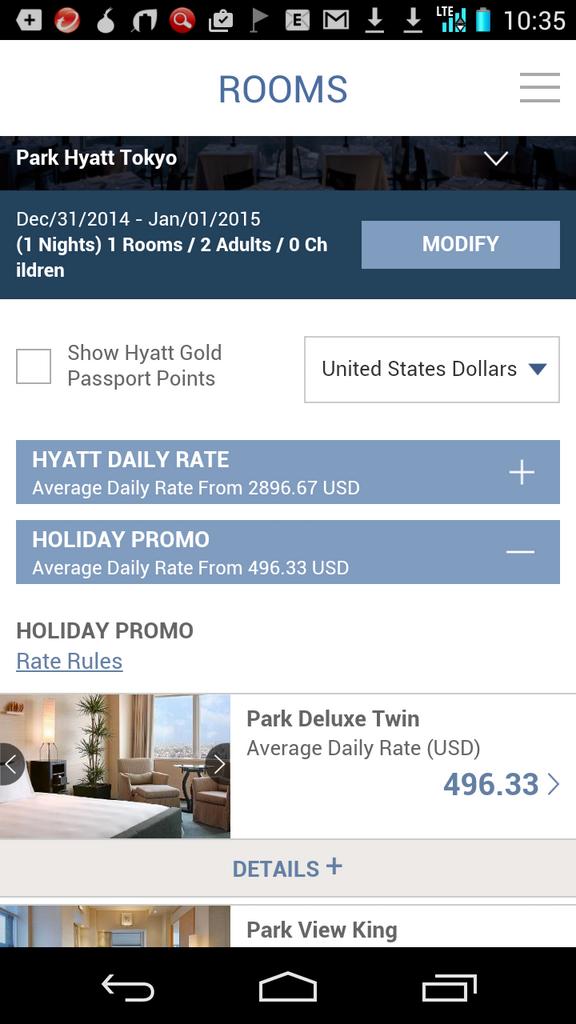 For weekdays in January, I was seeing Park King rooms going for under $300…even cheaper than the $300 Points + Cash rate that would also set you back a whopping 15,000 Hyatt Gold Passport points!
I did not see the Holiday Promo rate anywhere on the Park Hyatt Tokyo website.  And soon after noon, the rate was completely gone.  However, I do not think that this rate was a mistake.  I do think that we will see this rate again very soon, perhaps for every other Tokyo Hyatt hotel as well.
This is very similar to a promotion that Hyatt ran last year at this time in the Asia-Pacific, with the terms slightly altered.  Going by memory, the Terms and Conditions stated that the reservation was non-refundable, with full prepayment required at the time of booking, must be booked at least three days in advance, and was good for stays between December 1, 2014 and January 31, 2015.  Hacking away at the source code, it seems that this year's special offer code will be APRAC.
Although I personally am not interested in a non-refundable rate, I think that this would be a great opportunity for people to get to try the Park Hyatt Tokyo at close to Hyatt Regency Tokyo prices.  Or, for that matter, perhaps get to try the Hyatt Regency Tokyo at well below Hyatt Regency Tokyo prices.
Here's hoping that the Holiday Promo makes a more long-lasting return in the very neat future!